Justin Giboney on the necessity of biblical peacemaking in the struggle for political and racial justice.
Noah Van Niel: Manly Virtues — There's some really good stuff in here that I've been mulling over for a while.
I aspire to be as impressionable as Bernie Sanders at a presidential inauguration. 🇺🇸
Between the President quoting Augustine and a prayer from an AME preacher, I would guess this is the most theologically eclectic inauguration ever. 🇺🇸
I wrote up a few thoughts over at Mockingbird reflecting on some ideas about wrestling from @ayjay and Esau McCaulley's new books.
I wrote up a list of my favorite reads from the second half of 2020.
There's no shortage of thinkpieces circulating about evangelicalism and "Christian" nationalism right now, but this one from Funmi Ojetayo at The Front Porch might be one of the best. I encourage you to read the whole thing:
The raging mob of January 6th think themselves revolutionaries, restoring America to its greatness. But what we saw was less a noble cause and more the wickedness of a tyrant and those who bow to him. Besides, the medicine for our national malaise is not revolution. Revolutions – cultural, sexual, political – have proven inadequate to meet our deepest need. We need revival and renewal; we need a new awakening.

But since so many of our national leaders, political and religious leaders, have failed us, from whence shall this revival and renewal come?

The local church.

Much has been said and written about how white evangelicalism is in thrall to the GOP, but the data actually shows that most of the partisans and so-called Christian nationalists we see in the public sphere are not regular attendees of the local church.[i] They are cultural appropriators of Christianity at best, and outright charlatans at worst. The numbers bear out the fact that most regular church attendees, who routinely sit under sound preaching and teaching, are far less partisan, are more engaged in their community caring for the poor, the alien, the widow, the orphan, the disenfranchised, and the marginalized, more frequently interacting with different ethnic groups, and readily engaging in the work of racial reconciliation.

I submit to you that revival will not come from the top, but, as is fitting for the upside-down Kingdom of God, it will come from the groundswell of local, Spirit-empowered churches and pastors working for renewal in local communities throughout this nation. It is within the local church that we can shape virtuous people, a characteristic our Founding Fathers recognized as indispensable for self-government. It is within the local church that we grasp the meekness of Christ and its winsome power. It is in the local church that we learn to be reconciled to one another, because the gospel of reconciliation pulls down dividing walls of hostility and brings previously warring factions together into one family. It is in the local church that we learn unity even amidst diversity, for there is neither male nor female, black nor white, Republican nor Democrat, but all are one in Christ Jesus, co-heirs according to promise (Gal. 3:28-29). It is in the local church that we form and conform the hearts of our people away from earthly powers, and instead toward King Jesus, away from donkeys and elephants, and instead towards the Lamb who was slain for us.
Abandoned structures from around Charlottesville's Woolen Mills this morning.
Texas was nice. Here are some photos.
Slightly emotional. Thank you TX for bringing me a taste of CA.
Farm cat
Happy birthday to @jensaplin! I'm blessed beyond deserving to have you as my wife, companion, and friend. You've graced the earth with your presence for 30 years, and it'll only be the better to have you for 30+ more. I love you my star-stuff.
Great day celebrating 30.
Post-Xmas dinner vibes. 📷 credit: @jensaplin
The amazing @jensaplin knows how to give good gifts.
Cville beers rarely disappoint. Windswell Hazy DIPA from Random Row Brewing.
Freddie deBoer on self-styled "COVID realists"
xkcd sees me.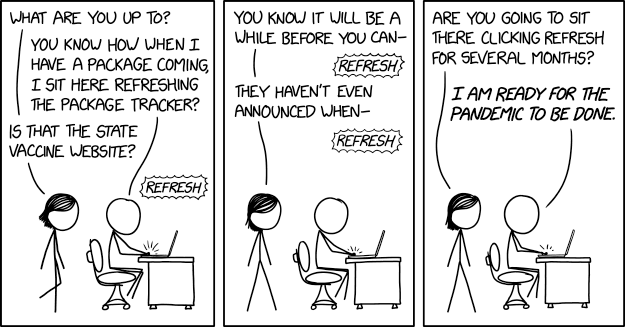 Mood. 📷credit: @jensaplin
Icicles from yesterday's storm.
John Gardner's 'Cruisin' Across America' | OJ Wheels - If I had to guess why I'm so drawn to this, I'd say it's because it showcases Southern California and the east coast, both places that I've called home.
Grant Snider - The Inward Spiral
My friend Zack wrote some great thoughts on mental health, OCD, and God
The Kitchen Sisters - Hunting and Cooking with Angelo Garro
John Berger: How to Resist a State of Forgetfulness
Richard Hughes Gibson: In Search of Charitable Writing
💁‍♀️🧔❤️🎄
John Inazu at The Hedgehog Review: This pandemic season has forced on many of us the painful absence of face-to-face relationships. When we are once again free to pursue these embodied relationships, we might discover that they also represent our best antidote to the information virus: other human beings who force us to confront complexity rather than caricature, and who challenge us to maintain friends, not just followers. But antidotes, like vaccines, don't always come easily. They take work, risk, and perseverance
Current listening: TOOL - Fear Inoculum
Thankful for this amazing woman, and her cooking skills too. 🦃
Halp
My friend Zack recently built a dungeon generator in lieu of nanowrimo, and did a little write-up about it. I cloned the repo for it with the best intentions of contributing, but alas can take no credit for what he's done here. Pretty neat stuff.
Our new cat, Jack, in peak cat position.
Finally made it to the Goochland Drive-In. 📍Goochland, VA
Fun fact, the unzipped archive of data is 28.4MB in size. 24.2MB is photos/videos/stories. The other 4.2MB is all JSON - likes, connections, contacts, etc. I look forward to digging into this.
I opened Instagram for the first time in a looong time today to export my data/tell people where to find me before I delete it. It is more of a dumpster fire than I even remember it, and feels like an unironic reproduction of something you'd find in a f*#king Black Mirror episode.
My good friend Kendall has a new project that I highly commend to you - Negative Love: a resource for queer Christians.
Leah Libresco Sargeant: "To give an honest accounting of ourselves, we must begin with our weakness and fragility. We cannot structure our politics or our society to serve a totally independent, autonomous person who never has and never will exist. "
this interview with John Milbank and Catherine Pickstock is a great introduction to radical orthodoxy.
I wrote a blog of some suggested reading for new and recovering Christians.
Oliver Burkeman: "To stay sane, you need at least one foot planted firmly in your world: the world of your job and neighborhood, that letter you need to mail, the pasta you're cooking for dinner, the novel you're reading with your book group, and that guy on your street who never cleans up after his dog – the world where you can have an effect, even if I've admittedly yet to have one with the dog guy. "
I'm very excited for this new book from John Barclay: "But grace is both richer and more complex than we generally imagine, and I here highlight how grace is significant not just for the individual (as "amazing grace" that "saved a wretch like me") but also for the construction of communities that find in the unmerited grace of God in Christ the basis for new forms of solidarity that subvert traditional concepts of worth."
Thrasher magazine: cruisin' with Ace Pelka.
Two things I love about this: 1) seeing some skate street with an old-school deck shape, and 2) seeing some familiar looking locations from Long Beach.
Daniel Herriges at Strong Towns: We Don't Live in a World of Cartoon Villains.
I'm sure there no shortage of opinionating about Dave Chappelle's recent SNL monologue, so I'll throw my opinion into the mix and say it's absolutely worth watching for yourself.
Since we're not allowed to meet inside yet and the last two sundays got rained out, our church held a brief compline service followed by a bonfire.
🇺🇸
Jenkem Mag: Backyard miniramps created during lockdown
Kendall Gunter at Mockingbird on Maria Dahvana Headley's Beowulf translation: "We could say that, like many modern, feminist projects, these are Christian projects, too, belatedly finding their true voices to chastise dualist moralism. Trying to shore up our own purity (non-monstrosity) is a delusion doomed to fail. Perhaps identifying with our enemies welcomes not only them but our true, complicated selves."
Theologically-inclined people of microblog: any suggestions for free materials for prepping Bible studies on the web? I'm trying to piece together something on Galatians 3. The most accessible resources I know of are firmly entrenched in the reformed evangelical way of things and I'm trying to branch out.
I've been meaning to write some thoughts about the pandemic, joy, and embodiedness, but this newsletter from Mo Perry gives voice to them better than I could have imagined. HT to @ayjay for this find.
Wesley Hill: Why the Justice of God Is Good News
William Deresciewicz on why artists should be treated as workers.
Richard Feynman explains electricity.
Drum cam of Danny Carey performing "Pneuma" live with TOOL.
REBUILDING A SPOT IN HARLEM WITH JERRY MRAZ - Jenkem Mag
This essay about OnlyFans, the commodification of eros, and capitalism's encroachment of the most intimate aspects of our being is fascinating, and devastating. Lord, have mercy.
God and the Gamemaster - Alexi Sargeant at Plough.
Camping practice in our backyard. @jensaplin
New morning read. 📚
I wrote some thoughts on distraction and burnout.
Eric Miller at Mere Orthodoxy on "the market" and Evangelical colleges: "The market's inability to measure the actual historical loss that such decisions effect on the most crucial traditions we have—political, intellectual, ecclesiastical, ecological—is simply one more sign that our grand global system is yet another idol blind to the devastation in its wake. "
David French on the Breonna Taylor case: "In the contest between the rights of a woman to sleep peacefully in her own home and for her boyfriend to defend it against violent entry and the right of the state to make a violent entry, the law should prefer the homeowner."
Brad Edwards at Mere Orthodoxy: "Evangelicals have had it all wrong. Secularism isn't the root of the problem, but the inevitable fruit of an individualism cultivated within a domesticated church more interested in maintaining manicured lifestyles than exploring the messy inconvenience of the Kingdom. The threat isn't lurking out there somewhere, but in here fueling the culture wars we claim to be victims of."
I normally post pictures here, but today's hike to Blackrock Summit in Shenandoah National Park deserved a whole blog post of its own.
Received goods. More here darkdescentrecords.bandcamp.com/album/hid…
Lovely day at Grace Estate Winery.
New neighbor.
Neighbor from the pond behind our house visited my office today.
Since I missed Nick Cave's livestreamed solo concert back in July, I'm very excited that it will be released as a film and an album this November. This performance of Galleon Ship from it is just gorgeous.
Here Is One Graph Everyone Should See on Labor Day - Jacobin
A fantastic Labor Day reflection from Chris Arnade: "Many Americans see work as a thing to deal with, that hopefully gives them enough stability or money to have a shot at being who they really are. … That doesn't mean they don't want to be good at their job, but that there are a lot of hard jobs because life is hard, and a lot of people would rather focus their energies on being good at their lives.
Work is only a part of that, let's not try to make it the only part."
Boatin'.
Crabby neighbor.
VA beauty from our drive out to Solomons Island yesterday.
Mini vacation in Solomons Island, MD
Currently listening.
Today Augustine sounds like Uncle Colm from Derry Girls. "So I says to myself, says I…" 📚
I'm reading St. Augustine's Confessions, and I feel like his writings about memory sometimes read like the ruminations of a stoned freshman — "It also contains all that I have ever learnt of the liberal sciences, except what I have forgotten". Just read it in the voice of Keanu Reeves. 📚
Neil Gong at LARB: As the country reckons with the failures of mass incarceration and hyper-policing, activists and sympathetic lawmakers have a unique opportunity to implement abolitionist ideas. Deinstitutionalization's history tells us that the easiest political compromise will be defunding without sufficient reinvestment. We can't afford to repeat that mistake. If we are to move away from police and prisons, we must prioritize community investment and avoid settling for half-victories in the form of defunding and closure.
Rowan Williams on the purpose and means of theological education.
Jeffrey Guhin at The Hedgehog Review: As we get ready for another COVID semester, the stress of combining full-time work and full-time de-facto homeschooling is matched by the sadness of smushing all the power and beauty of education into the meritocratic ideology it has come to represent. Our students, our children, are more than achieving automatons. Yet this is where our focus on schools as agents of social mobility has brought them, and us. Don't let the crisis go to waste. Fix inequality in whatever ways we can. And then we can let education actually be about education, even if we're still just doing it at home.
I already wanted to see the new Bill & Ted movie but John Scalzi's review just made me all the more interested.
A friend passed this along to my wife, and I thought it worth sharing. Sometimes the prayer of another gives voice to what I'm feeling better than I ever could. A thousand amens to this.
What's Driving Dashawn Jordan? - Jenkem Mag
Ventured out to Sandbridge yesterday to celebrate our friend James's birthday.
Creeper in my office 🙀
Leigh Phillips on why the "Left must claim the mantle of free speech, broaden its scope, and bring in the dimension of class".
Damon Krukowski at NPR: On Bandcamp, Spotify And The Wide-Open Future - Count me in the Bandcamp…camp
This essay on Cormac McCarthy, by Michael Berdan of Uniform, is really good.
Currently listening: Deluge, by Anura
Charlottesville Three Years Later: The First Amendment Confronts Hate and Violence, via LARB.
This article by Nathan Robinson contrasting the abundant availability of low-quality writing and propaganda with the relative inaccessibility of substantive writing and research is definitely thought-provoking. I think Robinson stumbles into lazily dismissive hypocrisy when complaining about ideologically motivated thinktanks and outlets that express a different political philosophy his own, but he raises some really compelling points about cost, compensation, and access. I also think he overlooks the problem of compensating the labor of those who would build the kind of "universal access" database that he proposes, but the questions he asks and possibilities he explores are nonetheless a good place to start.
I am very much looking forward to reading this upcoming book about the history of drone music. Neolithic instruments, Brian Eno, medieval choral music, and SUNN O)))? Count me in.
Micah Latimer-Dennis on digitally mediated worship: But if dissatisfaction is often a distraction from worship, it is also potentially a tool. Our disappointment with worship's digital mediation can remind us of the tragedy that's caused our dispersal and can prod us to turn to God. The present's substitute for gathering for worship can direct our eyes to the day we will return. Weil writes that "the great sorrow of human life is that to look and to eat are two different operations. Only on the other side of heaven, where God lives, are they one and the same operation." Online worship is a reminder of this sorrow, since in it the distance between looking and eating is felt so acutely. But our longing for a world in which things are otherwise can point us to the world in which they are. Being reminded of the future in which we will share Eucharist again—truly eating, truly together—can remind us too of the world of which that meal is a sign. Together our eyes can look to that time and place where the whole church will be gathered to gaze and to feast, at once and for eternity, on the Lord.
Jason Thompson on Natasha Tretheway, at Mbird
John Scalzi: "F*** You, I'm Voting."
Some thoughts from Alan Jacobs on "thoughts and prayers" from a few years ago.
Leah Libresco: "Christians, especially white Christians, should live in such a way that our doors are clearly open, as the Bendas' were, to anyone in need. That might look like literally opening a door, as Rahul Dubey did in Washington D.C. to shield protestors from police. But we also keep the door open (or slam it shut) through our public actions. When we speak with contempt or indifference about George Floyd or any other victim of racism, when we amplify the voices of people who are at best negligently ignorant and at worst actively racist, we say that our door is not open to everyone."
Kendall Gunter, at Mockingbird: 'the "stammer" of poets, no matter their relation to God, takes cues from the "stammer" of doubtful believers. Because in some sense, that's all of us, hoping for our felix culpa — hoping that consciousness feels like the gift that it is.'
Finally got to check out the Mudhouse on 10th to pick up some beans. Cool wall art adjacent to the building, and a lovely (and an understandably sparsely occupied) rooftop patio upstairs.
Visited the Branch Museum of Architecture and Design in Richmond today. More pictures incoming.